21 November 2018
New edible cricket species discovered in Kenya
icipe
Researchers at the International Centre of Insect Physiology and Ecology (icipe) in Nairobi, Kenya, have discovered a new, previously undescribed edible cricket with great promise for mass production for human consumption and inclusion as an alternative protein ingredient in animal feeds. The species, which was collected and reared for experimental purposes at the Centre's campus, has been named Scapsipedus icipe Hugel & Tanga nov. sp., and its discovery has been reported in a paper published recently in Zootaxa journal.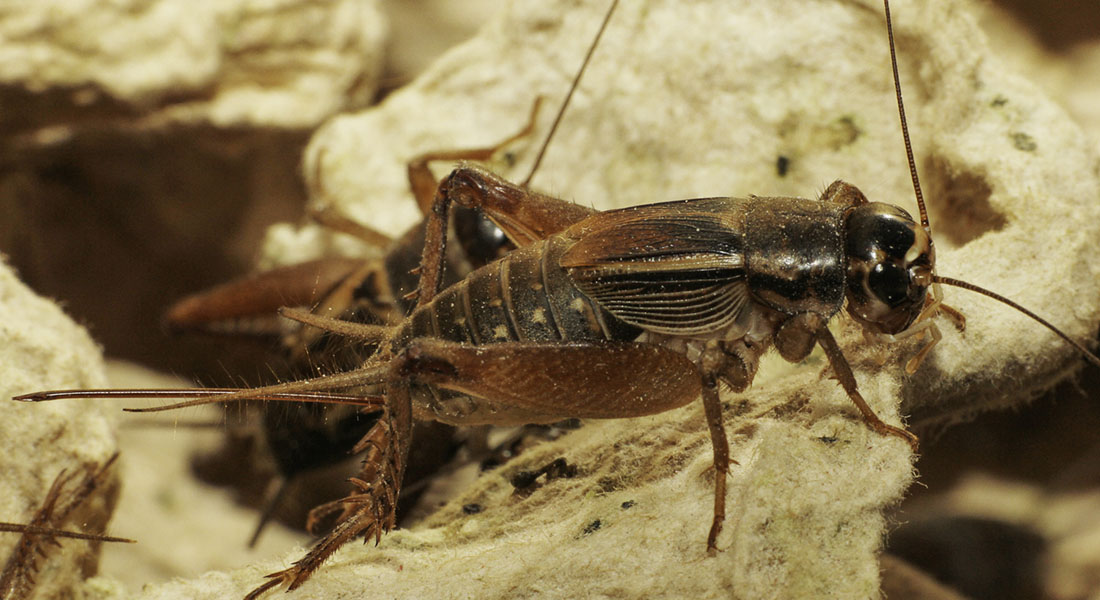 The cricket was discovered by icipe's insect for food and feed programme that is implementing the following projects: GREENiNSECT, funded by the Danish International Development Agency; ILIPA supported by the Netherlands Organization for Scientific Research, WOTRO Science for Global Development (NWO-WOTRO); ENTONUTRI, funded by the Federal Ministry for Economic Cooperation and Development (BMZ/GIZ); and INSFEED, supported by the Canadian International Development Research Centre (IDRC) and the Australian Centre for International Agricultural Research (ACIAR). (For more details, see Notes to Editors section below).
"Scapsipedus icipe is widely farmed across Kenya. However, until now its true scientific information was unavailable, and it was erroneously mistaken for a different cricket species known as Acheta domesticus L.," notes icipe scientist, Dr Tanga Mbi, who found the insect as part of his postdoctoral research.
He adds: "Our study highlights the species' habitat, molecular and morphological characterisation, acoustic behaviour, including male's call and courtship song, current distribution in Kenya and nutritional profile of the cricket species. This knowledge is important as it will enable the development of proper, more effective rearing techniques, and ultimately the effective incorporation of the species as a component in food and feed."
Scapsipedus icipe, which is commonly found around the buildings and fields, is characterised by a distinctive yellow band between the eyes and differs from other species within the genus Scapsipedus by a characteristic call and territorial nature of its males.
"Through GREEiNSECT, over the past three years we have conducted research on the potential of farming of edible insects as an important contribution to nutritious food now and in the future," says Nanna Roos, Associate Professor, Department of Nutrition, Exercise and Sports, University of Copenhagen, Denmark, which is leading the initiative at the university.
She adds: "We have tested indigenous Kenyan cricket species to investigate their potential to become 'mini-livestock' for mass production for feed and food. Therefore, the discovery of Scapsipedus icipe is exciting and important, not just because it is a new species to science, but because the species already has demonstrated great potential large-scale farming."
The researchers aim to conduct further studies on Scapsipedus icipe towards its incorporation into insects for food and feed initiatives in Kenya. So far, studies being conducted at icipe by a doctoral student, expected to be published soon, have established the best rearing conditions under different temperatures for Scapsipedus icipe. The Centre is also advancing research on the nutritional quality and safety of Scapsipedus icipe.
Notes for Editors
Publication details: Tanga C.; Magara H.J.O; Ayieko M.A.; Copeland R.S., Khamis F.M.; Mohamed S.A.; Ombura F.L.O.; Niassy S.; Subramanian S.; Fiaboe K.K.M.; Roos N.; Ekesi S. and Hugel S. (2018) A new edible cricket species from Africa of the genus Scapsipedus. Zootaxa, 4486 (3): https://biotaxa.org/Zootaxa/article/view/zootaxa.4486.3.9 
Correspondence: Dr Sunday Ekesi, Email: sekesi@icipe.org
Research collaborators: The research was conducted in collaboration with the School of Agriculture and Food Security, Jaramogi Oginga Odinga, University Science and Technology, Kenya; Institut des Neurosciences Cellulaires et Intégratives, France and the Department of Nutrition, Exercise and Sports, University of Copenhagen, Denmark.
The International Centre of Insect Physiology and Ecology (www.icipe.org) headquartered in Nairobi, Kenya, is the only research institution in Africa working primarily on insects and other arthropods. icipe's mission is to ensure better food security, health and livelihoods in Africa, by producing world-class knowledge and then developing solutions that are environmentally friendly, accessible, affordable and easy-to-use by communities. These objectives are delivered through four thematic areas — Human Health, Animal Health, Plant Health and Environmental Health. icipe gratefully acknowledges the financial support of the following core donors: Swiss Agency for Development and Cooperation (SDC); Swedish International Development Cooperation Agency (Sida); UK Aid, from the government of the United Kingdom; the Ministry of Higher Education, Science and Technology, Kenya; and the Government of the Federal Democratic Republic of Ethiopia.
The GREEiNSECT (Mass-rearing insects for greener protein supply) initiative, which is led by the Department of Nutrition, Exercise and Sports, University of Copenhagen, Denmark, working with a consortium that includes icipe and other public and private sector partners from Africa, Asia, Europe and USA.  Funded by the Ministry of Foreign Affairs, Denmark, GREEiNSECT aims to investigate ways of mass-rearing insects in small, medium and large-scale industries, as a novel, sustainable and inclusive strategy to address food, nutritional and feed security, and in support of the transition towards greener agriculture in Kenya.
The Improving livelihood by increasing livestock production in Africa (ILIPA) project: through collaboration with Wageningen University, the initiative aims to exploit the commercial potential of insects, mainly the black soldier fly, Hermetia illucens, in production of affordable, high-quality protein for poultry, pig and fish industries. To create an effective agribusiness model, the project partners will conduct research that will ensure high nutrition and microbial safety of the insect-based protein products. The research will also focus on creating awareness and identifying market opportunities for the technology. A participatory approach will be used, involving farmer groups, with particular focus on women and youth.
The EntoNUTRI (Development and implementation of insect-based products to enhance food and nutritional security in sub-Saharan Africa) project is a partnership between icipe, University of Bonn, University of Hohenheim's Food Security Centre (FSC), and national agricultural research systems in Kenya and Uganda, with the aim enhancing food and nutritional security with insects as food. The research includes: (i) developing and optimising production systems for farming and harvesting edible insects such as saturniid caterpillars, long-horned grasshopper, Ruspolia differens commonly known as Nsenene and crickets (ii) establishing their nutritional attributes of the above target insect species (fresh, stored/processed) and assessing appropriate post-harvest technologies; (iii) establishing food safety (chemical and microbiological) and regulatory requirements to inform policy; and (iv) socio-economic assessment on community perception, willingness to accept insects as food and the effect of consumption on anthropometric parameters of consumers.
The Insect feed for poultry and fish production in sub Saharan Africa (INSFEED) project has focused on the identification of suitable insect species, assessing the potential market and nutritional attributes of the products, and development and adaptation of cost-effective insect rearing, harvesting, and post-harvest techniques for smallholder producers. It will also establish the risk factors associated with the insect-based feeds along the food chain and their mitigation strategies as well as conduct research to inform policies for promotion of safe, sustainable and cost-effective use of insect in the feed sector.
Media contacts
icipe Communication Unit: Dr Liz Ng'ang'a. Email: Lnganga@icipe.org
Associate Professor Nanna Roos, Department of Nutrition, Exercise and Sports, University of Copenhagen 
Email: nro@nexs.ku.dk, Telephone: +45 3028 8988.
Communication Manager Kristian Levring Madsen, Department of Nutrition, Exercise and Sports, University of Copenhagen
Email kma@nexs.ku.dk, Telephone: + 45 4048 1684.
Topics
Contact
Associate Professor Nanna Roos
Department of Nutrition, Exercise and Sports, University of Copenhagen 
Email: nro@nexs.ku.dk
Telephone: +45 3028 8988
Communication Manager 
Kristian Levring Madsen
Department of Nutrition, Exercise and Sports, University of Copenhagen  
Email kma@nexs.ku.dk
Telephone: + 45 4048 1684