About the project
Mass- production of insects can contribute to the food supply both now and in the future. GREEiNSECT is a collaborative research consortium of universities and private partners aiming to investigate how mass-production of selected insect species can be developed in Kenya as a nutritious food source, as well as a a novel protein source for animal feed.
The partners will investigate the technical aspects of developing insect mass-rearing systems in Kenya; their applications to food, nutrition, and feed security; and their economic and social impacts and acceptance.
Together this research will advise the potential of 'greening' the agricultural sector via insect production systems. GREEiNSECT contributes to research capacity building in Kenya by supporting PhD studies in the fields of insect production, food product development, and economics.
Work Packages
This project is divided into five distinct work packages (WPs).

The GREEiNSECT model: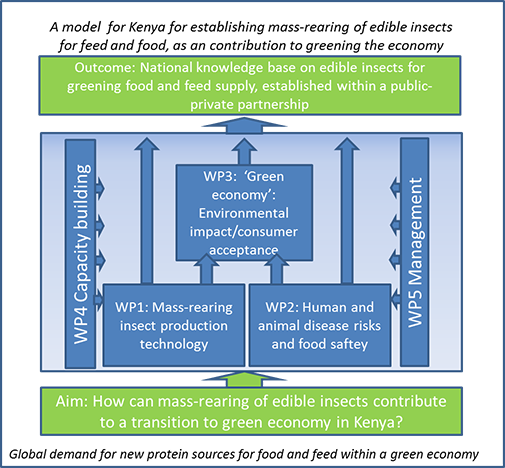 Furthermore, international partners from SE Asia will advance the progress of the project through their experiences with the edible insect sector. International knowledge dissemination will be supported by FAO.
Research Objectives
The overall aim of GREEiNSECT is to investigate the use of edible insects as a concrete tool for developing a new, sustainable and inclusive component of the food and feed sector in Kenya, and to contribute to a transition towards a greener economy.
The specific research and capacity building objectives of this project are:
Time frame
January 2014 - December 2017
Source of financing
Capacity Building and Exchange